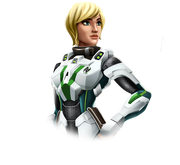 Katherine 'Kat' Ryan, also known as Kat Ryan or Kat, is an N-Tek Agent that is very skilled and very good in fighting. She is like Jefferson Smith, who is also skilled and very good on combats. She works at N-Tek and works for Commander Forge Ferrus. She also cares about Maxwell McGrath, as seen in the episode, Hard Water, when Max's mother was kidnapped by Water Elementor. Kat was also kidnapped in the episode, Hard Water, along with Jefferson Smith. She is voiced by Kathleen Barr.
Section heading
Write the first section of your page here.
Trivia
While she takes her name from the original Kat Ryan, her looks and characterization are more similar to Rachel Leeds.